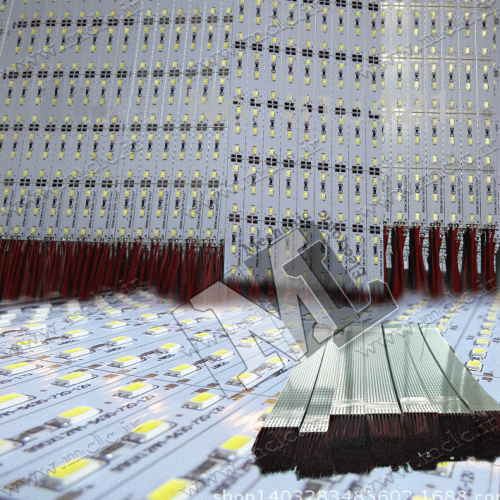 LINER LED SMD 24V IN LED
The main use of this linear SLM model is for buses, trucks, or industrial workstations with 24 volts or 24V direct-current elevators.
The chip used on the 5630-rated aluminum shaft has good light and long lifespan.
After strip LEDs and as the SMD power LED technology progresses, a new kind of LED is being introduced that combines the use of power LEDs on aluminum branches. The incredible power of these LEDs is compared to the LEDs used. In similar samples of tape and hollow, it has created a different user interface for this product. In other words, while striped LEDs were more used for lighting, this product can be used alone as a light source. Stunning, low consumption, long life and elegance are the main features of this product. This product has a variety of models on the market that you can see some of these models below.
The main reason for the use of aluminum in this product is its heat transfer properties, which is why this product is not flexible compared to strip and hollow models. Also, the product does not have any protection against water, and if it is intended to use it in wet environments or when dealing with water, it is necessary to seal the rails and looms (in the articles of the goods). The power supply required for this product is a 24-volt switching adapter that you can click here. The voltage and current required for this LED are included in the product specifications and, based on the number of LEDs used, calculate the ampere rating and choose your adapter accordingly. For example, if the current consumption was 0.8 amps (or 800 mAh) and you want to turn on 5 branches, you need to select an adapter with a current higher than 4 amps. Also, if you intend to keep these 5 branches continuously for more than 2 hours, we recommend that you calculate 80% of the adapter power and buy a 6-amp adapter.
Currently, the product has been identified in the market based on the current flow rate (not based on lumens and light) and is available on a variety of models of 600 mAh, 800 mA, 1.3A, and ...
Also, the size of LED SMDs used and the density of these LEDs are diverse, and these are also the main features of the product.
The price of this product is adjusted based on your information at the time of registration - the consumer, the partner, the manufacturer, etc., and the records of the purchase, as well as the number of requirements that are required to view these items after login with the user name on the item Click here for details and see the details. If you have any questions, contact the online site or phone support site and ask your questions.
Physical Features
DIMENSIONS
L:100cm W:1cm T:2mm
FLEXIBILITY
HARD
INTERNATIONAL PROTECTION MARKING
IP 20
OPERATIONAL SPECIFICATIONS
INPUT VOLTAGE
24V-DC
CURRENT
1000mA PER A LINE
POWER CONSUMPTION
22W
LINER LED SMD 24V