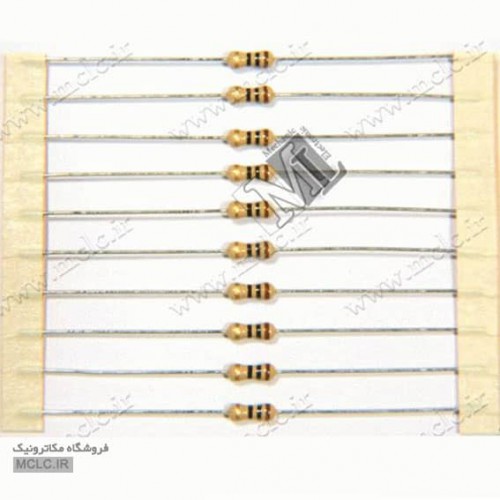 The full range of electrical resistances is 1/4 watts 5% in the mechatronics store
To buy resistance, you can insert the tape on the resistor as shown below. To do this, first place the golden bar on the right side and insert the strips on the left side of the product options in the product options.
This section is designed for use by those customers who are not able to read the value of their heaviness from the color. If you can read the amount of resistance you need, click on the "Resistance Class" and find the characteristics of the resistance you need by the filter that appears on the right side of the screen.
It is only selling five percent and four color (four strips) of ordinary resistance and retail sales.
user manual:
This product has four options that you can choose according to the strength specification you have.
The first option is to enter the color of the first bar of the resistance from the left. Assuming you have the golden bar on the right. This option can be in brown, red, orange, yellow, green, blue, purple or gray colors. Each color as shown above represents a number. For example, the brown color represents the number one
The second option is to repeat the same description as the first option and for the second digit. If for the same example that the color of the first strip was brown, the color of the bar is also green, you should consider the number 15.
The third option, which can be one of the colors black, brown, red, orange, yellow and green. In fact, the display shows the number of zeros that should be placed in front of the two digits of the previous ones. For example, if your third bar is black, that is, the number of zeros in front of the previous two digits is zero (since the black represents the zero number - look again at the image above). Another example: If the third tape is yellow, then the four zeroes in front of the two previous digits should be set to 150,000 or 150kΩ
The fourth option is to determine the color of the bar four and it is necessary to hold the resistance at the reading, which is the bar on your right. The only option available for this product is the golden color. Because the golden color indicates a 5% error, we just intend to sell these resistors in this way. The four bar may be silver-colored, indicating a 1% error (less error percentage). You can not select this kind of resistance in this product. One percent or so-called "military" resistors are used to operate on special circuits, such as high-frequency circuits. Some of the sufferings of these resistors are available in the mechatronics store, which you can click on "Resistance 1/4 W 1%".
RESISTORS SPECIFICATIONS
RESISTOR TYPE
CARBON
TOLERANCE
5%
VALUE
POWER - W
1/4W
RESISTANCE RANGE Y
FULL RANGE
RESISTOR 1/4W BY COLOR SELECTION