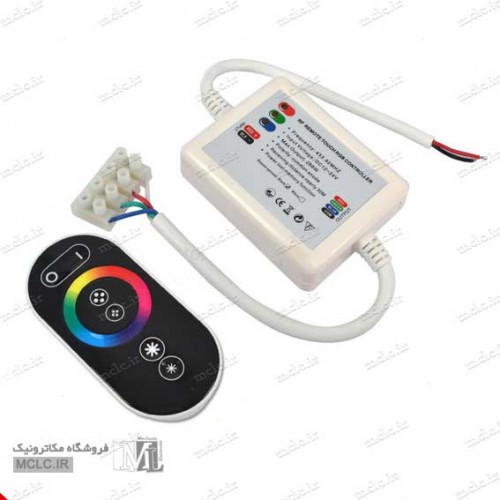 RGB LED Touch / Touch Remote Controls in Lighting Accessories & Accessories

The ultra-slim WiFi touchscreen controllers can control the RGB LEDs with a voltage of 12 volts and change color. The drivers of these two remote drivers are high-quality drivers and their output current is 24 amps However, you can use RGB amplifier to boost current.
Two touch-sensitive touchscreen controls include these two models:
Touchscreen remote control 8 keys:
The color is white and has 8 keys and a touch of color choices. The driver's width is 4.5 and 8.5 cm long, and the driver has four outputs (V + RGBW), the letter W is written on its body right on one of the output terminals, which means that the white can be single Get the color with this driver.
Touch Control Remote Control 6 Keys:
The color of this remote is black and has 6 keys and a color ring for touch. The drive is wired and its output is deployed on the terminal. This remote control also has the ability to control all types of RGB LEDs with a voltage of 12, and The quality of the driver is high. There are 3 displays on the driver's body, which can be easily tested with them
GENERAL SPECIFICATIONS
USAGE
LIGHTING
MADE IN
CHINA
BENCHMARK
GOOD
WARRANTY
NO
TOUCHING LED RGB DRIVER CONTROLLER 24A