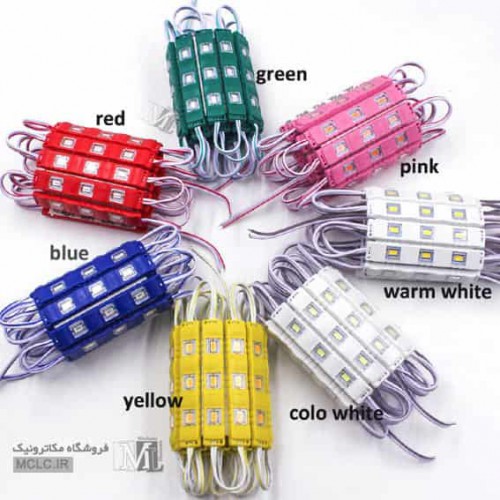 INJENCTION LED MODULE 3LED 5730
Light intensity (lumens) This LED model is about 25% higher than the standard one, which is offered at a lower price at the store.
In the item options, you can view and select red, blue, green, yellow, and pink colors
Click the "LED modules Injection 5730 3LED White" link if you want to buy a sunny or white moon white.
Blocks LEDs are made up of 3 5730 LED SMDs, and the above set is located inside a plastic frame and is covered with a transparent laminate that can be protected against rain. Below each block there is also a double-sided adhesive that makes installing blocks easy on a variety of surfaces. There are also bolts on the sides of the blocks to install them.
The supply voltage of these blocks is 12 volts and their flow varies depending on the color and model that is specified in the leaf of the specification.
The block LEDs are arranged in parallel in the 20-packets. So it's possible to separate each block and feed separately
The most commonly used LEDs are bluetooth headlights and letterheads and lightboxes, and in order to illuminate them, a 12-volt switching adapter is required, with the current equal to the current of each block multiplied by the number of blocks used.
In the picture, the blocks are packed in a corporate package, but you can easily remove any block by scissors or a cutter and use it whenever you need it (horizontal, vertical, etc.). Blocks They are connected by a pair of wires and they are connected to each other and you just need to cut the wire as needed and attach it to the adapter. There is no need for soldering or any additional work
OPERATIONAL SPECIFICATIONS
INPUT VOLTAGE
12V-DC
CURRENT
70mA PER A MODULE
POWER CONSUMPTION
0.6W
GENERAL SPECIFICATIONS
USAGE
LIGHTING
MADE IN
CHINA
BENCHMARK
PERFECT
WARRANTY
YES
INJENCTION LED MODULE 3LED 5730